Yay, it's Friday! Time to focus on fun and creativity! So let's talk Halloween costumes.
Last year was definitely the most creative costume we've tackled. Jake's idea. He's always got something brewing in his head. His first request was to be grapes – whaaat? Then I told him to gather up some buddies and be the Fruit of the Loom Guys. Never caught on. Actually, relieved. Wasn't looking forward to making grapes.
Anyhow, next request, a mouse – ummm, ok? Scoured the internet for inspiration. Found it! A mouse in a mousetrap – perfect!
What you need:
gray sweatshirt and sweat pants, gray cap and gloves
gray and pink adhesive foam (for ears)
make up for whiskers and nose
foam core board or cardboard
string
4 PVC pipes (measure for your person)
4 PVC corners
silver spray paint
craft paper and markers or paint
Be warned these pictures are horrible – pre-blogging days. Thought about having him put it on again for a special blogging photo shoot, but nah. The important thing here is the idea and the how, right?
The How:
Wrap craft paper around the foam core to mimic a wood color, paint the edges black, add a "V" just like the one on Victor mousetraps and the base was done. Of course you can get as detailed as you'd like. We chose to stick with the simple red "V" with the mouse ears and eyes and skipped the other stuff.
For the trap, we used four PVC pipes and four corners to create a rectangle that would flap over top of my son. We spray painted it silver to simulate metal and attached it with rope. We actually wrapped the rope around the part of the trap closest to the base mimic the spring on the Victor mousetrap, then we poked holes through the foam core to create a backpack with the rope. It worked out great because it was lightweight and could easily be taken on and off. The other nice thing is that it was warm with the hat and gloves and comfy sweats.
Speaking of the hat, we just literally used self adhesive foam and cut it into the shape of mouse ears and made a flap that could be folded to stick to the hat. I believe I reinforced it with a glue gun.
Although this was probably the most creative costume we've done, the biggest buzz was the year he dressed up like a girl. Ummm, some people actually thought he was one. And what I loved most about it was he appreciated what it takes to be a girl. His feet were killing him by the end of the night.
And then his other homemade costume was a hobo. Can't find that photo, but you know what to do for that, right? Ripped paints, burn the top of a cork, let it cool, then rub on face for dirt effect (or you could use make up), grab yourself a stick and bandana for the hobo stick and there you go. If I find the photo, I'll be sure to share.
This year's creative costume just might be an eight ball. Still deciding. When I asked my daughter why an eight ball, she simply replied, "Because I'm eight."
I've linked this post here and at the Handmade Halloween party below. To see more costumes, click the button below.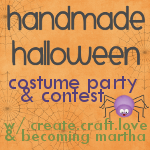 Have a fabulous and fun weekend!
Check out the rest of this series here.